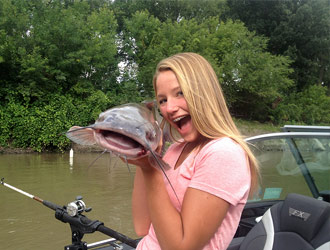 Life…isn't it interesting?  I'm not quite sure how to put words to what's going on in this crazy world, but it's getting harder and harder to stay "up" on things.  I guess it's almost best to not pay so much attention to the negative "crap" going on, and try to focus on the good "stuff".
The outdoors is where I spend most of my time and I know it's where most of you like to spend your time too.  If you love the outdoors, September is the start of the most awesome season here in Minnesota!  Hunting season starts, fishing starts to get better and better, the bugs are on the outs, there aren't as many people out and about and it's just plain and simply "prime time" to be outside!
I just put up a tree stand this morning and repositioned my game camera that was swatted to the base of the tree by a bear.  I have a couple more stands to put up and a number of fishing trips still in the book. Our last adventure was on the Red River up near Fargo, ND where we were out kitty hunting!  Catfish that is.   We fished from my Larson FX fishing boat and I'm sure that this stretch of the Red hasn't had too many non-flat bottom boats in the many years that it has winded through the Fargo/Moorhead area.  It is was all good though, only a couple of small hull bumps on the logs!  We put in a couple of long days and nights and it so happened that we hit the post cold front time frame where the temperature went from 90 to 50 in no time.  We ground it out and ended up catching 7 catfish and a variety of other river fish.  It was a fun experience and it is WAY different than the kind of fishing that I am used to.  We fished for our bait (goldeye's) and chopped them up into pieces that we hooked on our large Gamakatsu hooks.  We used 2 and 3 ounces of lead and just sat there (anchored up), watching our rod tips.  I did hook into a nice one (10-12 pounder) and boy are they a powerful fish.  This is certainly something that we can do right here on the ole Miss, I might just have to head out there some night and do a little more "fishin in the dark"!  But for now, it's time to get the Excalibur crossbow hitting the mark so I can down a big whitetail over in our neighboring state of Wisconsin.  Wisconsin is the 21st state to open season for whitetails with the crossbow during the archery season, and I get to take part!
Enjoy this last weekend of summer and do not labor!, Walleyedan
Article written by Walleyedan for the Brainerd Dispatch.