Group Fishing Trips – Spend the day in MY office!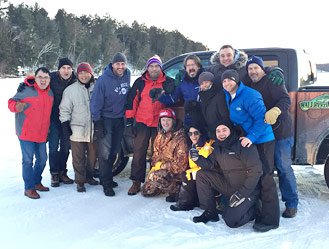 My office is just that, it's where I get my work done (some days)!  When you come to my office all you have to do is kick back, relax and set the hook!  If you do any work besides fish while you are in my office..you are FIRED!!  Walleyedan
Big groups or small, we will fish with you all.
Family Reunions
Corporate Team Building
Bachelor and Bachelorette parties
Birthday's
Customized Outing tailored to your needs
A number of our local resorts have been setting up large outings for many years and adding a fishing trip to the schedule of events is usually a big hit!
We can plan mini tournaments or various contests (first fish, most fish, largest, smallest, most unique, best story or what have you) among your party.  If you would like to purchase some Walleyedan Wear as some of your prizes, check out the tab above and we will bring it on the day of your trip.
During the winter months, we can work with you too. We can take a road trip or we can pick you up at your resort and fish locally.  Some of our guides rent fish houses if you want to go that route.  If you want to fish early in the season and pack light, we will do this.
Does it sound like we will do whatever it takes to get a trip?  We do know that people have different expectations and wishes and we will certainly do whatever we can to make your trip with us a memorable one!
If fishing is interfering with your business, give up your business.
~ Alfred W. Miller