Open Water Fishing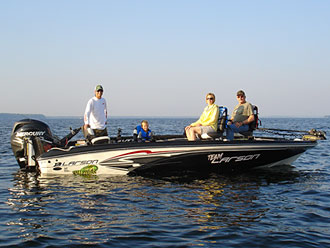 As almost everyone knows, Minnesota is blessed with having an abundance of lakes and rivers. In the heart of lake country is the town of Brainerd, Minnesota. Brainerd is the name that everyone knows, but on the fringe there are many small towns such as Nisswa, Lake Shore, Pillager, Baxter, Merrifield, Garrison, Cross Lake and others. Intermingled in these towns are many awesome fishing lakes such as The Gull lake Chain, Pelican Lake, The Whitefish Chain, North Long Lake, Round Lake, Lake Mille Lacs, Cullen Lakes, Lake Hubert, Gladstone, Perch, White Sand, Lake Edward, Sylvan and hundreds of other quality fishing lakes. We don't only guide on these Brainerd Area Lakes, we will head to where the "hot bite" is currently happening. Leech Lake, Cass Lake, Winni, Upper Red Lake, Bemidji, Ten Mile, Pine Mountain are some of the other lakes in our arsenal.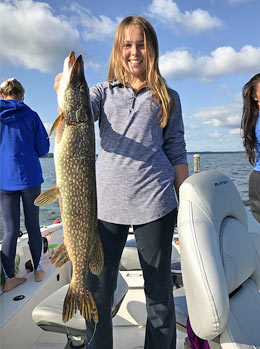 We like to catch fish as much as you do and it's not just our hobby…it's our profession. If you would like to make a family fishing outing that's great. If you are wondering what to do with your business, fishing is a great team builder. We have had many of the big corporations out on the water and they have come back year after year. If you would like to just get away with the "girls" or "guys", we will set you up.
We are not just "eye catchers", we fish for northern, musky, largemouth and smallmouth bass, crappies, bluegills, perch and trout, walleyes are great but they aren't only fish we like to target. We will meet you at your dock, at our shop or wherever it is most convenient to get on the water and get the rod bending. We can't promise you what type of boat you will be fishing from but we will tell you that it will be 18 feet or longer and it will be equipped with everything you need to catch fish. All you need is a Minnesota fishing license, a snack and something to drink. If you are excited about the prospects of fishing with one of our professional fishing guides, call us right now at 218-839-5598 or send us a quick email at walleyedan@walleyedan.com
We hope you chose us for your next fishing trip.
I've managed to convince my wife that somewhere in the Bible it says, 'Man cannot have too many shotguns and fishing poles'.
~ Norman Schwarzkopf