Minnesota Ice Fishing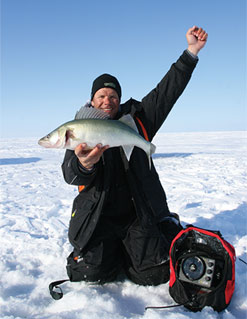 The ice fishing season typically starts during early December and runs through March.
I love "first ice" and this can be a fantastic time to get out (using caution) and hammer on the fish.  We fish for multiple species and will go where we need to in order to find the "hungry ones"!  Once we have sufficient ice, the Sno Bear is taken out of hibernation and put to use in a big way.  If you have not seen a Sno Bear, you will be amazed by this machine that is years ahead of anything out there.  We trailer these units to the ice and unload similar to that of a boat, in fact it is my "winter boat".
Ice fishing is a great sport and it has become quite modernized in a relatively short period of time.  This does not mean that it still can't be a relaxing sport, and for me it is where I still find my peace.  So if you are looking to experience ice fishing for the first time or you are a hard core angler, we can set you up with the "right package'!  Call today.
Fishing is a delusion entirely surrounded by liars in old clothes.
~ Don Marquis