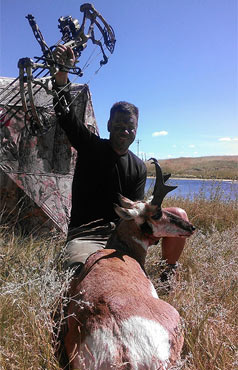 I'm back from a successful Wyoming pronghorn hunt. I sent my last column to the Brainerd Dispatch from my blind (via my IPhone) an hour or so before I harvested a nice pronghorn with my bow and arrow.
I shot the buck at about 10:30 a.m. last Friday morning as he was coming to a watering hole. The shot was right on, and the animal hit the ground in less than a minute and expired! That was certainly one of the highlights of our trip, but there was so much more that we experienced. We were involved in a cattle drive with horses and Polaris Rangers, we watched some professional ropers, shot some prairie dogs, called for coyotes, caught a few trout, witnessed a man hunt, saw some beautiful country and had an overall really nice experience. The west is beautiful! And yes, Brainerd is beautiful too, just a different type of beautiful.
Last week Brainerd was roaring with dragsters at BIR and Gillette, Wyoming was pretty chill. On the last evening Kyle Peterson and myself got permission from the rancher to sit with our Korstog AR's and watch the sun disappear behind the Big Horn Mountains. The dying rabbit call didn't do the trick, but it's not always about the kill. No, it wasn't a romantic sit either, it was just a couple of "dudes" enjoying another beautiful part of this world.
[one_half]
[/one_half]
[one_half_last]
[/one_half_last]